JAP SHOW FINALE
Santa Pod Raceway
Airfield Road
Podington
Wellingborough
Northants
NN29 7XA
England
One of the last club car shows of the season.
A well attended show with plenty to see and do.
For anyone feeling brave enough, you also have the opportunity to take your car down the strip.
You will find plenty of posts on the forum to compare your 1/4 mile times to.
Check out all the details here.
As we explain every year the club has to purchase 10 tickets to secure us a car club stand.
Each club selects a stand position when 10 tickets are paid for.
Hopefully we can secure a decent stand position, and want to avoid being on the grass!
To do this we need members to post up here that they are interested, and if they are wanting a weekend camping ticket or just a Sunday day ticket.
As long as we know there is enough interest club funds can be used to purchase tickets to secure members a club stand to display their cars on.
Ticket costs are here, and under 13's are free.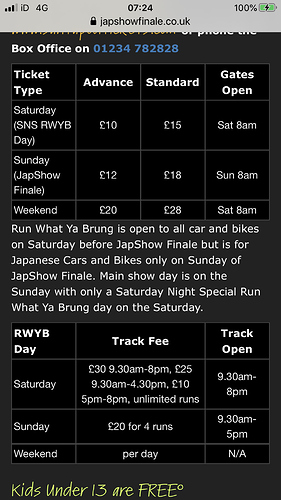 All tickets also have a booking fee of £2
Be careful on the way to and from the event guys speed cameras and police presence.
Usually not too bad at this event, but constant complaints from local residents sometimes makes the police presence larger.