"LADIES - START YOUR ENGINES!!" THE UK's FASTEST WOMEN TAKE TO THE TRACK
So you think you're a fast driver- a hellish quick biker? There are quite a few women who can show you what 'FAST' is all about. On Saturday and Sunday 24th & 25th July the 'For Ladies That Launch' will be doing their multi-thousand horsepower thing at Warwickshire's Shakespeare County Raceway drag strip.
In cars that make a Ferrari look like it's standing still, and on bikes that claw the air as they smoke away from the line, these ladies prove that the label 'Woman Driver' stands for the highest level of skill, professionalism and sheer thrills you can ever want to see.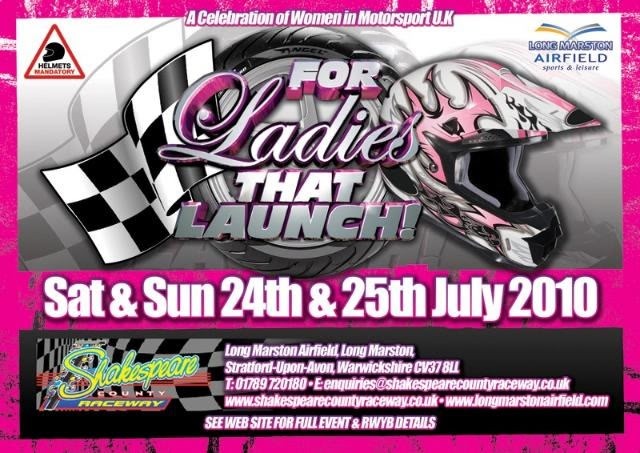 Celebrating 'Women in Motor Sport', this extravaganza of speed is open to any female who wants to have a go with her car or motorbike on the famous drag strip at Long Marston Airfield, nr Stratford-Upon-Avon. All ladies are invited take part alongside some of the biggest names in UK drag racing in a proper elimination style drag race on the Sunday. All you will need is a race or road vehicle, your Driving Licence, crash helmet, and a small fee to Sign-On and race in the 'The Ladies that Launch Shootout'.
Liz McCarthy will be taking to the quarter mile as she rockets off the line on her 1,000 plus horsepower Suzuki powered drag bike, and Carolynne Campbell will be there with her insane Rocket Powered Dragster, 'Laffin-Gas', accompanied by a host of very fast ladies from other branches of motor sport that really know how to make the track rock!
You'd be surprised at just how many ladies keep motor-sport going, as Marshals, Safety Crew Workers, Track Officials, Mechanics and Racers - it's time we celebrated the Fast Women of UK motor-sport.
So we want to see all the girls there not just those who race but the ones who support their teams, make the tea, make sure the boys have packed their crash helmet etc and make it viable for them to race (as most of them can't make it to the front door without help!) and of course those of us who tell them where to go and what to do on the day – as a marshal myself I would like to see as many girl marshals there as possible.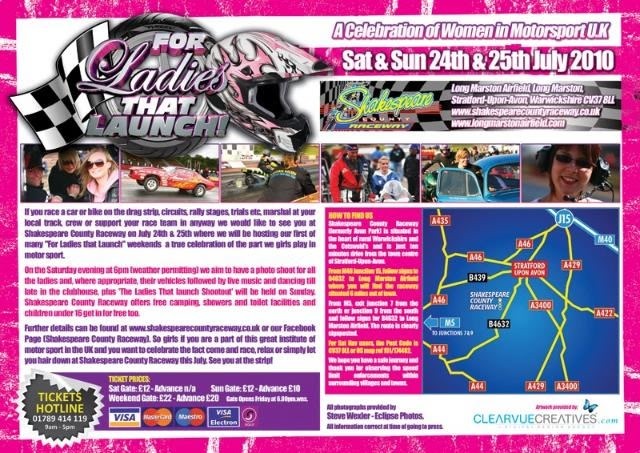 On the Saturday evening (weather permitting) we aim to have a photo shoot for all the ladies and, where appropriate, their vehicles followed by live music and dancing till late in the clubhouse
So bring your car, bring your bike, or just bring yourself - it's time to LAUNCH LADIES!
Shakespeare County Raceway offers on-site catering, free grandstand seating, free camping,
showers and toilet facilities and children under 16 get in for free too. Further details can be found at http://www.shakespearecountyraceway.co.uk, our Facebook page (Shakespeare County Raceway) or call 01789 720180 (Raceway Office) or 07799 622467. Flyers are available on request.
See you at the strip!