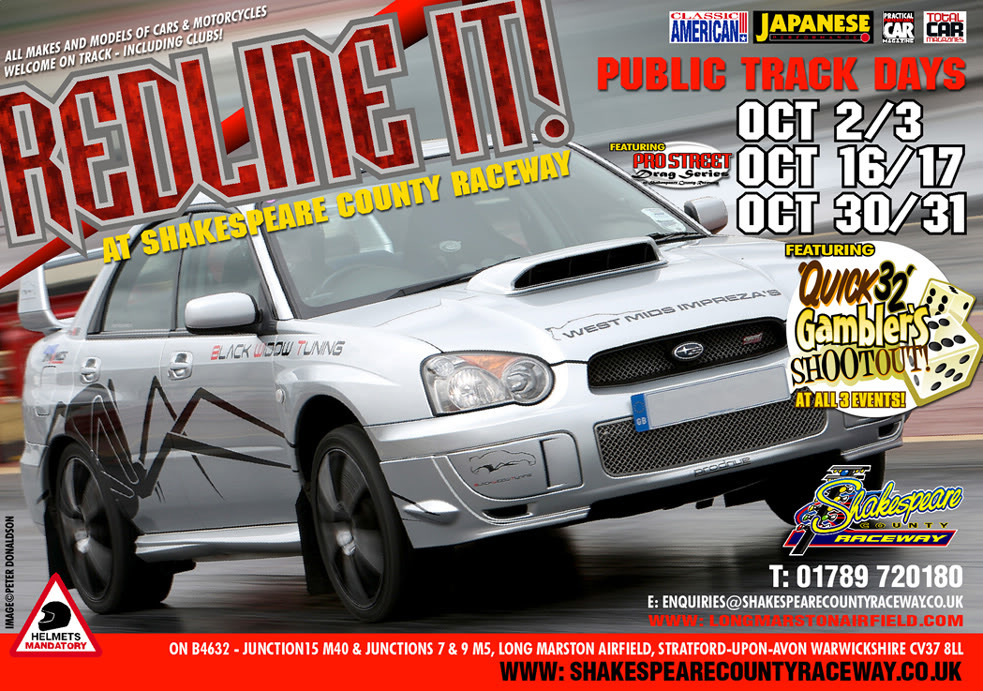 Public Track Weekend & Ford Fever Day: 02/10/2010 - 03/10/2010
Every driver and rider signing up for RWYB on Sunday will automatically gain entry into the race track's popular Sunday Track Challenge. A simple time trial competition to find the quickest 4, 5, 6 and 8 cylinder category cars of the day as well as the quickest manufactured motorcycle in the Trophy Bike Dash.
Car Clubs:
Ford Torque
RS Messers
Almera Owners Club
RWYB Series:
Old Skool Ford Drag Challenge
National Street Car Challenge
Public Track Day: 16/10/2010 - 17/10/2010
Sunday will feature the first of the raceway's special Quick 32 Bracket Gamblers Races with cash prizes for the winner and runner-up. Are you tough enough to enter the 32?
RWYB Series:
Old Skool Ford Drag Challenge Finals
National Sprint Association Finals
2010 Twins Cup
Car Clubs Attending
CADScoobies - Cheshire & District Scoobies
Cotswold Area Westfield Owners Club (Sat only)
Halloween Bonfire Burn-Up & Public Track Day Weekend: 30/10/2010 - 31/10/2010
Clubs are actively encouraged to take part in either a sport of inter-club members fun on the quarter mile or a full on quarter mile shootout with other clubs of their choice. It's the cheapest form of motorsport in the country!
RWYB Series:
Outlaw Street Finals
Car Clubs Attending:
TDOCUK.com - Turbo Diesel Owners Club UK
*For more information on any of our Public Track Days please visit www.shakespearecountyraceway.co.uk and click on Events.
Any queries or questions please email Jeremy Cookson at [email protected]! *