Has anybody experience of buying a GTO from Autoworld 2003 in Leeds.
Now this will open a can of worms



Have got many parts from them
Eeeerm would think really think hard about buying full motor from them as went the other day to pick a bit up and was shock what I found
Garage not the same as website pictures infact it round the back of that garage and was a shock what I saw
So go check out and think hard .
Have experience of parts from them, oh boy! where to start. As @Tracie would say, 'On your head be it young man'



Terry

Welcome to GTOUK @joe6 had a mixture of service and parts good and bad !
I bought good parts from him and even gave me a couple of freebie parts too but as for a whole car I'd say be careful that is not a car build from multiple ones.
Just be aware and do proper check etc
Jerry
I bought a single difficult part from these guys. Their delivery service and on phone help was great. But the parts appear to be removed with little care or consideration to someone else installing it. Tabs get broken etc.
Buying your first 3000GT should be a great experience as the cars truly are great.
I would strongly recommend trying to purchase from a forum member. They care about the cars and don't want to take anyone for a ride (excuse the pun).
You should check out the classifieds on here and join/stay joined until you get ones.
Hope that helps.
Martyn.
Thanks for all the advice, do you need to be mechanically clued up to own one?
dont worry there been lots started off knowing nothing and with help from members they have done amazing things with there cars


so no you dont need to but it helps and lots of help on the site for full members

The price is close to top end for an auto so if you go view it have a good look underneath for rust and make sure everything is working
Go onto Gov.mot check site… will give you an idea what its failed on last few years. Seems to of had brake discs listed couple of times and other bits
Totally agree about checking the dvla Sites for previous history. But experience has shown me that MOT stations all have different views on things and sometimes are failing cars to get work. The one I bought had comments of brake discs needed changing due to excessive corrosion. They costs around £5k and had done less than 5k miles. Yes they had surface rust, due to lack of use. But they easily cleaned up and are perfect. That's just a little example, I have many.
You really need to look at a car yourself and or take someone who knows what they're looking at.
Too be totally honest you'll find a lot of the non turbos are better condition with less miles then a majority of the TT versions odd I know but is generally the reality. The body work on that looks reasonable I think to be fair and as in all cases when you buy any used car checking it is very important and many garages won't touch these and if they do for repairs make sure they know what they are doing as there isn't many specialist around anymore but still plenty of monkeys. I agree with a lot of what's said above but unless your close to some of the lads only so much can be suggested via help on our club fourm so worth considering if you know anyone who's good mechanically and most importantly you can trust.
Bought my GT0, just quick question regards to the battery when not being driven every day am I okay just disconnecting.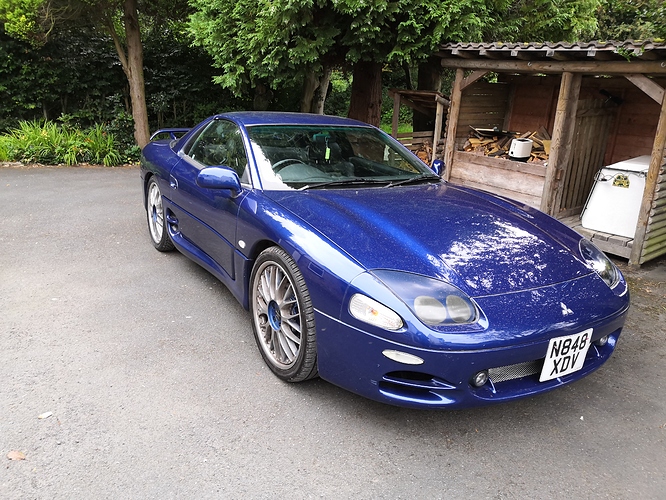 Will cause ECU reset all the time, get a decent solar trickle charger or if you can a trickle charger wired up from garage/house or shed (whatever you have)
Nice car Na?
Dave
With it resetting ecu when battery is disconnected , does that cause any problems over time?