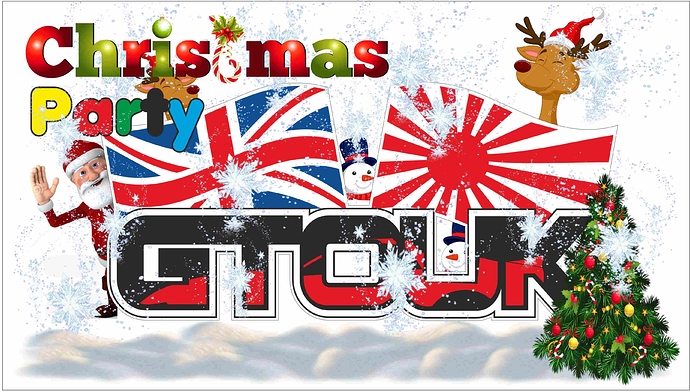 XMAS PARTY
15th December 2018
Well sadly we are coming to the end of another great car season.
But on the bright side it means we have the GTOUK XMAS PARTY
VENUE
The Kegworth Hotel
Packing hill
Kegworth
DE74 2DF
ROOMS
Single - £65 Breakfast included
Double/twin - £75 Breakfast included
Executive - £85 for 1 person
Executive £95 for 2 people Breakfast included
MEALS
£22.50
Starters
Homemade leak and potato spiced soup (v, gf)
Trio of melon with mint syrup (v,gf)
Prawn cocktail with marie rose sauce, served with brown bread & butter (gf)
Main Courses
Roast turkey, sage & onion stuffing, pigs in blankets (gf)
Baked fillet of salmon, in a lemon & chive sauce (gf)
Stuffed aubergine with a tomato sauce (v, gf)
All seved with honey glazed carrots, brussel sprouts & roast potatoes.
Desserts
Christmas pudding brandy sauce (v,gf)
Homemade profiteroles with hot chocolate sauce (v, gf)
Homemade vanilla cheesecake with rum and fruit coulis (v, gf)
(v) indicates vegetarian option available. (gf) indicates gluten free option available.
There will be music/disco after the meal
This year the club would like to offer to pay for the meals of any full member and there partner attending the event.
For the free meals
a. You must book and pay the deposit on or before 5th Nov
b. You must be a full member
c. 2nd meal can only cover partners. Not friends and other family members.
d. A non refundable (if cancelled) £10 deposit is required for the free meal per person, this will be refunded at the event ( the club does not want to be out of pocket for any cancellations last minute)
Deposit to be paid in club shop. Link below.
https://www.gto.club/product/gtouk-christmas-2018-meal-deposit/
To book in for this event call the hotel on the number below and quote GTOUK Christmas party to book rooms and food choices.
(If no room is needed you will still need to call and give food orders)
Last year card details were taken to book rooms when booking and payment was taken the morning after the event when checking out.
TEL: 01509 672427
If you have any issues please let one of us know
This is always a great get together to end the year on a high.
Hope to see you there.
Please add yourselves and menu choices to the list as you book.